EDC September Membership Meeting
Wednesday,
September 27th 5:30 pm
Englewood Chamber of Commerce, 601 S. Indiana Ave.
Welcome back to in person meetings, this month we will get to know our Board members after a brief business meeting. Light refreshments will be served afterward. 
Come join us in person at the Englewood Chamber of Commerce, RSVP here: https://www.mobilize.us/sarasotacountydec/event/583055/
Or click below to sign up to get a Zoom link and attend remotely– all are welcome!
Englewood Farmer's Market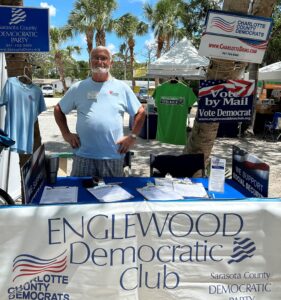 Our table at the (north) Farmer's Market will resume when the Englewood Farmer's Market reopens on October 5, 2023.
Adopt A Road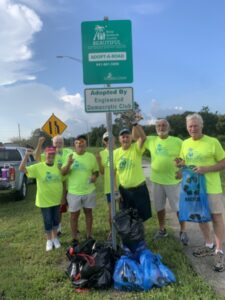 Saturday, October 14th 8:30 am
Corner of East Dearborn and Pine St.
The Englewood Democratic Club has made a committment to the Adopt-A-Road program to do our part to keep Sarasota Beautiful. Please join our committed club members in fulfilling the task of cleaning up Pine Street.
A release form is needed for each volunteer.
Click HERE to complete the required release form.
For questions please email David Evans at [email protected].
VP David Evans organized this event- he would welcome help, so if you can lend a hand email him at the above.  Thanks!
EDC Coffee Time
Enjoy time with old friends and make new friends!
Tuesday, October 17th 9:15 am
Mango Bistro
301 W. Dearborn, Englewood
Come be sociable and get out of the house 🙂
Please RSVP to Andrea Kluender
[email protected] • (608) 577-5889

Thursday, October 5th 4:30 – 6pm
Paraiso Mexican Grille & Bar
2639 Placida Rd.
Englewood, FL  34224
Drinking Liberally gives like-minded, left-leaning individuals an environment where it's not taboo to talk politics.  We meet in the tiki bar at this fun restaurant and enjoy cool drinks, tasty food and sparkling conversation.
Come join us – sign up at this link to let us know you are coming: https://www.mobilize.us/charlottecountydec/event/439515/
Check Out Your County's Democratic Party Events
Here are links to each county's websites and event sign ups:
Sarasota County School Board Candidate Campaign Kickoff
Click here to RSVP for this exciting event in North Port!