Addison Adcock Guest Editor in Sarasota Herald-Tribune!
May 22, 2023         
Local student has blueprint for preserving democracy
Your Turn Addison Adcock Guest columnist
Editor's note: Addison Adcock, a graduating senior at Lemon Bay High School in Englewood, recently received the inaugural, nonpartisan Living Democracy Award from the Englewood Democratic Club for her essay on the question 'What can I do to preserve and improve our democracy?'Adcock, who aspires to be an attorney, also received a $1,000 college scholarship for her essay,…
Click here to read:
https://drive.google.com/file/d/1TpwTQYJtaRVS1hVfaSpxzBI6ROJEqLei/view?usp=share_link

 $1000 scholarship awarded to Lemon Bay High School graduate
May 8, 2023
The Englewood Democratic Club presented its first "Living Democracy Award" to graduating Lemon Bay High School senior, Addison Adcock at a ceremony held at the high school.  Ms. Adcock was the winner of the Club's non-partisan essay contest based on the question: "What Can I do to Preserve and Improve Our Democracy?".
Ms. Adcock's submission, "Our Living Democracy" was the unanimous selection of an expert panel of judges consisting of Judith Geithmen, retired Lemon Bay English teacher; Michael Haymans, attorney in Punta Gorda; and Joyce Colmar, retired attorney and Adjunct Professor of Law.
The $1000 scholarship was presented to Ms. Adcock in recognition of her excellent essay and in the hope that it helps her realize her career goal of "upholding the justice system in our great nation."
EDC Members Attend FDP's Stand United Rally in Tampa
May 7, 2023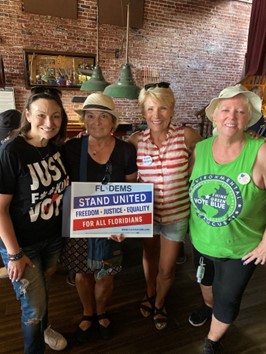 Florida Legislature – End of Session May 5, 2023
Cardiopulmonary Resuscitation (CPR) Safety Training
March 27, 2023
The Englewood Democratic Club hosted fifty-eight fellow citizens at the Englewood Chamber of Commerce as five members of the Englewood Fire Department Rescue Team delivered an informative, lively refresher course on critical safety issues. Topics included an overview of CPR – when to initiate it and how to perform it.  Cardiopulmonary Resuscitation is an emergency lifesaving procedure performed when the heart stops beating. Immediate CPR can double or triple the chances of survival after cardiac arrest.
Also included was an explanation of the signs of stroke and the appropriate immediate response as well as the use of defibrillators.  The Heimlich maneuver was demonstrated and tips on fire safety in the home were discussed.
The firemen encouraged the audience members to have a list of all medical issues and medications prominently displayed in their homes (on the refrigerator was recommended) and on their persons at all times.
At the conclusion of the presentation, the firemen insisted on applauding the audience for their attendance and encouraged them to enroll in more extensive training, including CPR certification, available through the Englewood Fire Department.
This was a non-partisan free event sponsored by the Englewood Democratic Club where all were welcomed, regardless of political affiliation.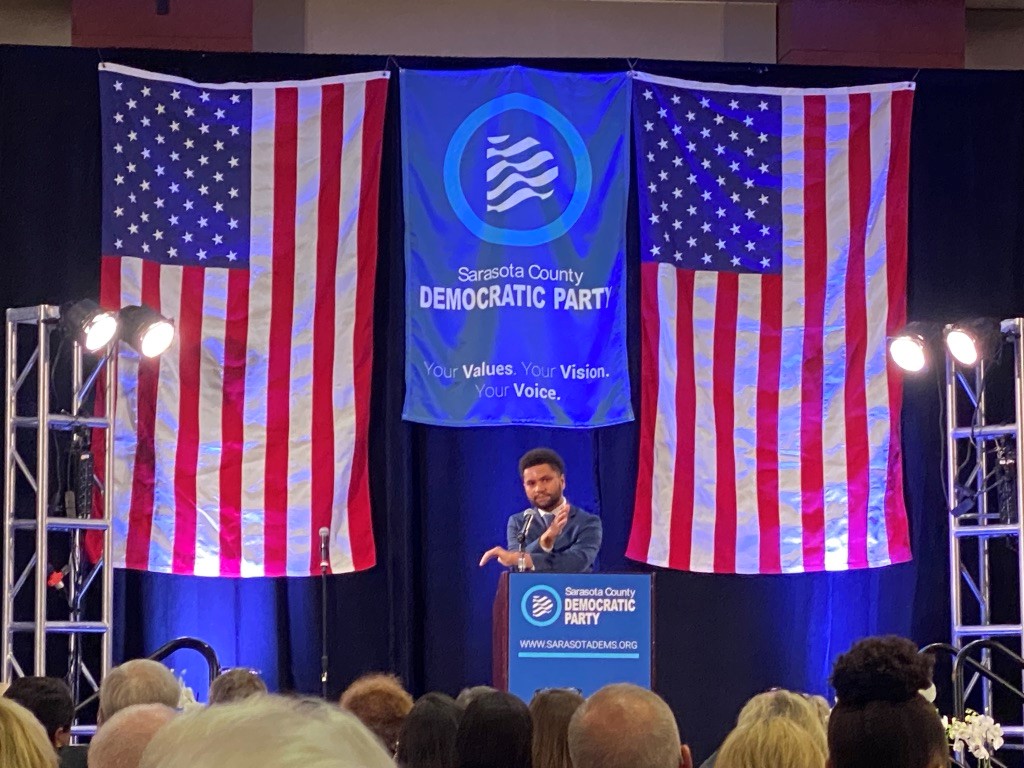 Kennedy King Gala
Sarasota County Democratic Party Annual Fundraiser
March 13, 2023
EDC Members attended and heard from of U.S. Congressman Maxwell Frost (D) and FL Representative Anna Eskamani.(D) for Orlando District 47.  Frost (pictured) is the youngest member of Congress and the first member of Generation Z elected to Congress.  Ms. Eskamani is a tireless crusader for Democrats in the Republican-dominated Florida Legislature.
2023 Board Members February 22, 2023
The Englewood Democratic Club is pleased to announce its board of directors for the upcoming year.  Chris Kenealy will be serving as President, David Evans as Vice-President, Holly DeVogt as Corresponding Secretary, Andrea Kluender as Recording Secretary, and Tony Dunbar as Treasurer.  At-large members of the board are: Karn Cunningham, Joyce Colmar, Gerry Pielack, Joe Del Bonis, Barbara LaCorte, Larry Johnson, Fran Dance, and Joanie Hillis. The Club has a full schedule for the upcoming year.  In addition to monthly membership meetings, the Club holds monthly morning coffee and afternoon social hours at local restaurants.  The Club continues with its adoption of Pine Street with regular Saturday clean-ups scheduled.  Special events occur throughout the year.
---